One of three.
We've commissioned five unparalleled makers to create their own unique series of Objectspace limited editions. All proceeds go to the artist and Objectspace. Win. Win.
"Ever met an artist who can spirit the power of a material into its earthly opposite? Since 2015 Finn Ferrier has been a student of rope. He takes a given length of this hardy and utilitarian seafaring textile and conjures a vase, a lamp or a garland of exquisite knot making. Aficionado of the handmade and enthusiast of the objects we surround ourselves with in daily life. The incomparable Ferrier has made sixteen necklaces for Objectspace of indefatigable crafting. Adornment for knot lovers, tastemakers and sailors alike." – Kim Paton
Finn Ferrier
Layer Necklace, 2022
Braided cotton cord, h 270 x w 210 x d 20 mm
Edition of 3
"The name for how a shell grows is in layers. This necklace is a repetition of the same form that gets bigger every three layers, and then reduces back again." – Finn Ferrier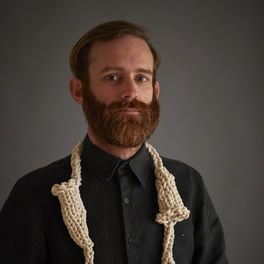 Artist Bio
Finn Ferrier's practice revolves around storytelling, materiality and the object. Ferrier has been exploring the human relationship to rope, re-imagining it as a decorative material rather than a practical one. Ferrier has been creating decorative rope objects as a way to highlight our connection to rope in our daily lives, re-imagining rope-futures.
Ferrier has recently exhibited at Te Uru, The Sarjeant Gallery and The New Zealand Maritime Museum. His work is in public and private collections in Aotearoa. For Objectspace, Ferrier has created a series of rope garlands intended to be worn. These works are the logical progression of decorative knot work, reimagined as adornment.