"I declare Vita Cochran the master of thread, the whisperer of needles, a high witch of wool.
I hear the collective quaking in boots of upcyclers and Etsy-lovers when they see the beatific works of Cochran coming. She takes a preloved button, cord, glove or zip; she dissects worn (but not worn-out) jerseys, jumpers and womens coats. And she rebuilds them – creating bags, rugs and works of art, that will will render the most stoic anti-crafter's eyeballs full of wonder.
For Objectspace six iconic rope bags with a novel eyelet — O for O Space. And wait for it... 12 fire hose phone pockets, could there be a bag more desirable for these tumultuous modern times." – Kim Paton


Vita Cochran
Rope Bag for O Space, 2023
Upholstery Wool, remaindered and retired rope, 340 x 320 x 60 mm each bag. The bag has an internal zipped pocket 170 x 140mm and dome closure. Handles are 600 long.
Edition of 6

We've commissioned five unparalleled makers to create their own unique series of Objectspace limited editions for Weekly Objects 2023. All proceeds go to the artist and Objectspace. Win. Win.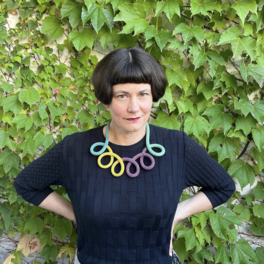 Artist Bio
Vita Cochran is an artist from Aotearoa now living and making on Gadigal land, Sydney. Since graduating with a MA in Art History from the University of Auckland in 1999 Vita has made art and objects combining traditional textile techniques with contemporary forms. She has an interest in the history of domestic crafts, the traffic between decorative art and painted abstraction, and thoughtful re-use of materials. She recently exhibited a series of large abstract textiles, the 'Exploded Coats', made of unpicked vintage garments arranged to conjure varied unexpected associations. Vita is represented by Anna Miles Gallery.