One of ten pairs.
We've commissioned five unparalleled makers to create their own unique series of Objectspace limited editions. All proceeds go to the artist and Objectspace. Win. Win.
"If you like your ceramics full of brazen attitude then Peter Hawkesby is the maker for you. Master of the vessel, the tick and the slab. Hawkesby goes his own way every time. In service only to the mud that he's been in commune with for more than forty years. Don't be mistaken... a Hawkesby cup will tell YOU when it's time for coffee. These pairs are a rare find." – Kim Paton
Peter Hawkesby
Dazylure Carpark Cups (Pair J), 2022
Ceramic, each cup approx. 75 x 110 x 80mm
Edition of 10 pairs
Dazylure Carpark Cups are named for Peter's Ōtepoti studio, Dazylure. The kiln he fired them in is named Gertrude - after Gertrude Stein of course, in homage to her book Tender Buttons informing the title of Tender Brick, Peter's 2020 exhibition at Objectspace.
These mugs are high/lowfired, so must be washed by hand.
With thanks to Anna Miles Gallery.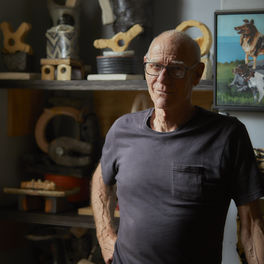 Artist Bio
Peter Hawkesby's ceramic career dates to the 1970s when he learnt pottery north of Auckland. In the decades since, his work has been acquired by major public and private collections and revered by potters and public alike. Hawkesby lived in Tokyo in the 1980s before spending two decades running the iconic café Alleluja in Karangahape Road's St Kevin's Arcade. Gladly, he returned to full-time making in 2015 to great applause and a swell of fantastic exhibitions followed.
In 2020 Objectspace was lucky to open Tender Brick: The Material Epiphanies of Peter Hawkesby, curated by Richard Fahey. Not to gloat, but Philip Clarke said it was the best exhibition of ceramics he'd ever seen. We like to think owning a pair of these mugs is like taking home a piece of this show.