"Could there be a more poignant document of daily life than a lived-in room? A chair, a bed, a shaft of warm light drawn from a window.
Sam Hartnett has spent the last two decades capturing small moments in the spaces that we occupy. Fleeting moments and encounters are rendered as quiet markers for all that's worth remembering.


Sam Hartnett
Timber Chair by Marilyn Sainty, 2023
Framed photographic print, 405 x 305 x 40mm (print 200 x 150 mm)
Edition of 3 + 1 A/P
Courtesy of Anna Miles Gallery
With thanks to Marilyn Sainty and Emile Drescher
For Objectspace eight chair portraits taken during research trips for an exhibition whirring into life. An exhibition telling a story of design and making in Aotearoa through a single object – the chair. Captured with clarity, these objects are singular for their design and storytelling, each crafted and made with the hands. Sam documents them in workshops, lounges and fish and chips shops. Each a tribute to their maker, an emblem for an exhibition in the making, and of course, an ode to the simple joy of good design." – Kim Paton
Secure this Sam Hartnett chair portrait now and it will be framed and ready to collect mid-October.


We've commissioned five unparalleled makers to create their own unique series of Objectspace limited editions for Weekly Objects 2023. All proceeds go to the artist and Objectspace. Win. Win.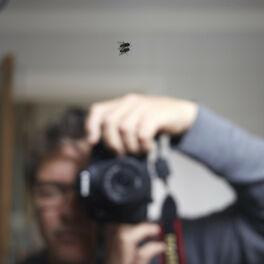 Artist Bio
Sam Hartnett is a Tāmaki Makaurau Auckland-based photographer specialising in architecture and art documentation. His photographs feature regularly in architecture, interiors, design and fine art periodicals and publications. Alongside working with clients and collaborators across Aotearoa and abroad, Sam has a personal photographic practice that reflects his careful observation and attention to beauty in areas where we often don't expect to see it. In 2019 Objectspace opened Ex Libris, a solo exhibition of photographs by Hartnett taken ahead of the closure of three specialist libraries at the University of Auckland. The exhibition was curated by Anna Miles and accompanied by the publication Ex Libris: Regarding Three Libraries. Sam is a long-time collaborator and friend of Objectspace and is represented by Anna Miles Gallery in Aotearoa.