"If the cosmic union between two artists is just right... an alchemic magic can materialise. Nichola Shanley and Bekah Carran have been collaborating on cloth for 2 years. Ten scarves for Weekly Objects are a call and response that draw a connecting line between two verdant peninsulas – Shanley in Lyttelton and Carran Portobello. Paintings that appear to be drawn from the soil, sea and the flesh. Distant landscapes and bodies figure; all right there, but just out of reach. These works are exceptional and mighty. Worthy of any wall or to be righteously worn." – Kim Paton
Nichola Shanley & Kārena Carran
Commune Square Scarf V, 2022
Hand-painted silk scarf and bag
700 x 700mm
Edition of 10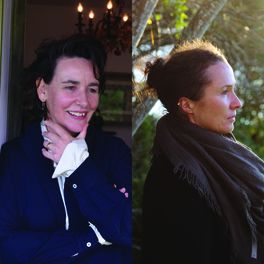 Artist Bio

Nichola Shanley is a Lyttelton-based artist. Grant Banbury explains that "her desire to make objects that embody an afterlife and transfer inner thoughts and feelings into tangible objects for our contemplation is the hallmark to her practice."

Bekah Carran is based in Ōtepoti. She works between her art practice, clothing label Kārena Carran and studio store Midden. For her work, Carran looks to our landscape of things, the timeline of objects which outlast us, and the human ego.

The collaboration between Shanley and the label Kārena/Carran has grown from a friendship formed in Ōtepoti. These scarves are a small part of a wider body of work that continues to unfold; posted back and forth between Portobello and Lyttelton. With many years as solo practicing artists the two find great satisfaction in communication and in the knowledge some ideas need more than one personality in order to exist.