"If you hold one of Ben Pyne's works in the palm of your hand you feel it's life force quietly rumbling against your skin. It's earthly matter, eons old, fired and glazed in geologic tones of russet and amber.
Pyne makes objects rendered to an architecture of the home and the body. Humane, useful and worthy of living with for a lifetime.
For Objectspace, a vase. Only big enough for a small clutch of stems. Dare I say it... some rare things are perfectly made. Of a scale and intention that requires nothing more and nothing less. A simple thing, worthy of wanting." – Kim Paton

Ben Pyne
Horizon Vase, 2023
Glazed stoneware, 170 x 55 x 55 mm
Edition of 3

We've commissioned five unparalleled makers to create their own unique series of Objectspace limited editions for Weekly Objects 2023. All proceeds go to the artist and Objectspace. Win. Win.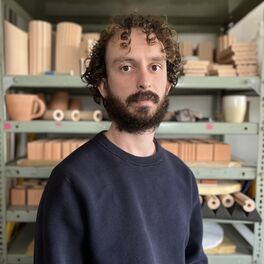 Artist Bio
Ben Pyne is a designer and ceramicist living and working in Tāmaki Makaurau Auckland. Pyne completed his Bachelor of Visual Arts at Auckland University of Technology in 2012, followed by an Honours degree in Art and Design majoring in Product Design in 2014. Recently Pyne exhibited work as part of Testing Ground at Sarjeant Gallery Te Whare o Rehua Whanganui and completed a major new commission for Objectspace's Courtyard Plinth titled Mantle Overturn. Pyne is a regular contributor of technical articles to Ceramics NZ magazine.