One of five.
We've commissioned five of Aotearoa's most respected artists to create their own unique series of Objectspace limited editions as a marker of these extraordinary times.
"Don't be fooled by the zinging one-liners to be found in a piece of Lisa Walker jewellery – think taxidermy ducklings strung in a row, or a strangely loving embrace from a necklace of disembodied arms. She's a jokester alright - but she's a master maker and a material provocateur too. A legend here… and everywhere, there's no better way to take your string of pearls than Walker's. Anarchic and beatific all at the same time." – Kim Paton
Support Objectspace, support makers, and support creativity in Aotearoa.
Pearl Necklace by Lisa Walker
Freshwater pearls, green and gold threads
690mm total length
with thanks to The National and Masterworks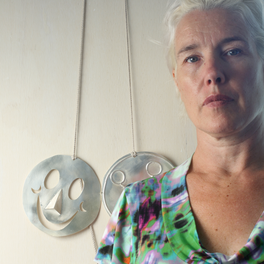 Artist Bio
Lisa Walker is a contemporary jeweller based in Wellington, New Zealand. She has a Diploma of Craft and Design from Dunedin School of Art (1989), and co-founded Workshop 6 in 1993. Walker studied at the Akadamie der Bildenden Künste, Munich, under Otto Künzli (1995-2001), before establishing her own studio in Munich (2002-2009). She now lives and works in Island Bay, Wellington.
Lisa Walker repurposes the world into a wearable language. Well known for her expansive use of materials, influences and construction techniques, with iconoclastic exuberance Walker poses questions about the possibilities and meaning of wearable objects. Remaining in close conversation with the history–and potential futures–of the medium, Walker's work is deeply invested in exploring the limits and boundaries of what jewellery can do.
Walker has an extensive international exhibition history and her work is held in many international collections. Her prestigious awards include Foerderpreis der Stadt Muenchen (2007), Francoise van den Bosch Award (2009), and the Arts Laureate Award of the New Zealand Arts Foundation (2015). A major retrospective of her work I want to go to my bedroom but I can't be bothered opened at Te Papa Tongarewa Museum of New Zealand, Wellington, Aotearoa New Zealand in 2018. A touring version of this exhibition, She wants to go to her bedroom but can't be bothered has subsequently toured to RMIT Design Hub, Melbourne, Australia (2019), Villa Stuck in Munich, Germany and Te Uru gallery in Auckland, New Zealand.