"The first step in making a firehose phone pocket (after cutting off a length of hose) is to dry out the inside with a tea towel – it really has been used to fight fire as the drips of water inside attest. Some of the rope used for the rope bags is retired from rock climbing, so I hope both these bags have a material memory to help with more everyday emergencies!" — Vita Cochran

Vita Cochran
Fire Hose phone pocket, 2023
Retired fire hose, eyelets, rope, 190 x 112 x 15 mm each bag. Strap is 1320 mm long.
Edition of 12, four with black rope
We've commissioned five unparalleled makers to create their own unique series of Objectspace limited editions for Weekly Objects 2023. All proceeds go to the artist and Objectspace. Win. Win.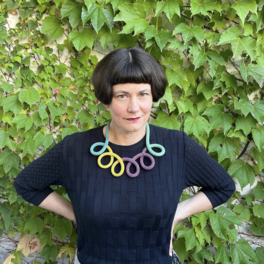 Artist Bio
Vita Cochran is an artist from Aotearoa now living and making on Gadigal land, Sydney. Since graduating with a MA in Art History from the University of Auckland in 1999 Vita has made art and objects combining traditional textile techniques with contemporary forms. She has an interest in the history of domestic crafts, the traffic between decorative art and painted abstraction, and thoughtful re-use of materials. She recently exhibited a series of large abstract textiles, the 'Exploded Coats', made of unpicked vintage garments arranged to conjure varied unexpected associations. Vita is represented by Anna Miles Gallery.