Essay
Beauty is in the Street
2016
Rain beads in my hair and weaves its way slowly through the fibres of my coat. The winter downpour moves audibly beneath the grass, draining toward where a stream once ran. Tuna Mau, flowing to Waiatarau-the bay of one hundred reflections. No longer a bay, an eeling ground, and no longer a slum, or an enclave of affordable social housing…
The water pools among the grass, simultaneously moving downward toward the aquifers and caverns and drainage tunnels of the city's subterranean infrastructure. The rain, filling the aquifers and dams, moves beneath the city, through the city, emerging through pipe systems and household taps to nourish the lives of an increasingly diverse populace. It will sweat out through skin, in the streets, in schools, in hospitals, workplaces and on dance floors across Tamaki Makaurau. It will mingle with the fabrics and fibres of the factories, fields and workrooms of a globalised textile market — in t-shirts, denim, work wear, dresses, slacks…
The decision to respond to the themes of this years symposium of unrest, change and activism by focusing this exhibition through the medium of adornment and streetwear, is by no means a glib attempt to connect to any simplified notions of the 'contemporary' and its languages. Instead, it seeks to connect these broader discussions to the terrains of self-determination which take place in our everyday lives. To signal — albeit gently and incompletely — a connection to traditions of transformation and resistance by viewing the fierceness of transformative thought through its nuanced manifestations in aesthetic gestures, and in practices of love, care and energy.
The re-imagination of selves, of the city through the body, through the particulars of subjective experience, and the manner in which these intersect with the experience and practices of making — and wearing — and the communities we create in our actions and works.
For an emergent generation of designers, artists, crafts practitioners and writers, not only are our own labours and the conditions in which these unfold, of immediate and pressing concern, but so too is the awareness of the labours and working conditions of others. The brute exploitation and environmental degradation experienced by those with whom we share our world, and our own participation in flows of increasing material inequity, are clear. The materials that we acquire and exchange, the materials that we work with, all impact upon other beings in various ways. Our public spaces, our shared, and our meeting spaces which flux online/offline we find regulated by private, financialised and militarised interests. We cannot be sure that they are public, we cannot be sure that we want to participate, yet we are in it. We call to each other from across the street, the bar, the parent teacher meeting, across reading groups, and parks. How do we transmute this world into another, with whatever it is, and who ever we have at hand?
'We went to the public hospital but it was private, but we went through the door marked 'private' to the nurses' coffee room, and it was public. We went to the public university but it was private, but we went to the barber shop on campus and it was public. We went into the hospital, into the university, into the library, into the park. We were offered credit for our debt. We were granted citizenship'
—
Stefano Harney and Fred Moten, The Undercommons 1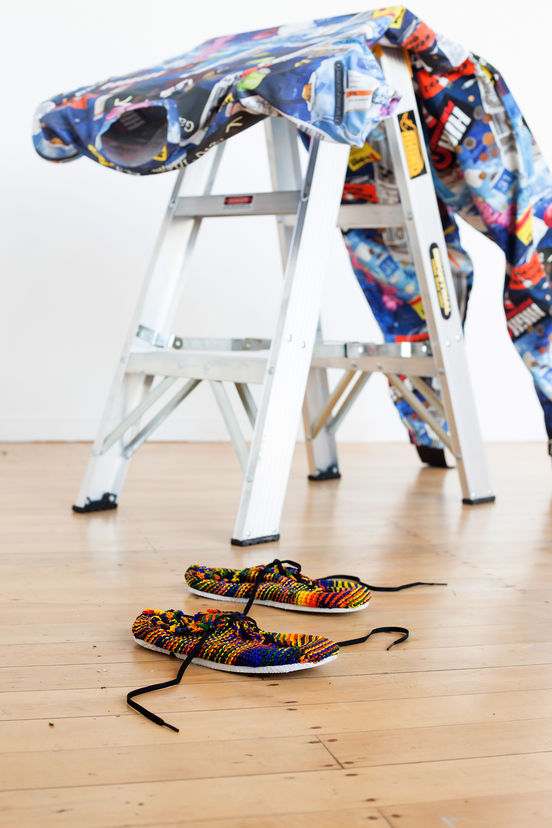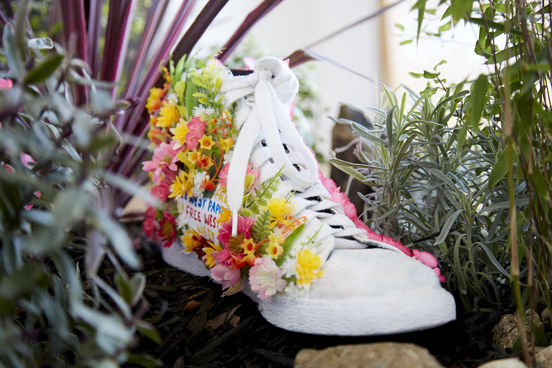 To a generation largely shackled by the debts incurred by study, creative practices are frequently etched out of working weeks either long or casualised and underpaid — each terrifying in their own confines and precarities. As Luka Mues writes of the his collection Hang in there Baby,
'I made this capsule collection while working a day job 60 hours a week and it took me nearly a year and a half to complete. I felt overwhelmed and unsure for a lot of this time, always questioning what I was making and what I was working towards. In my mind the title is a reassurance for spare-time labourers scratching together creative capital after hours.'
The garments, objects, texts and spatial gestures included in this exhibition are all touchstones for rich and diverse practices which develop within their own specific domains, and yet, which also intersect with other makers, communities, environments and modalities of practice. They follow diverse paths of inquiry, speak through different embodiments and contribute to different histories of practice.
From Areez Katki's synaesthetic meditation on Istanbul's Bospherous Strait in Constantinople Dress — a garment which responds to the environment, history and movements of this body of water, translated through Katki's craft and care — Luisa Tora and Molly Rangiwai-McHale's playful crystallisations of performative and affective online embodiments, to Ella Sutherland's graphic inquiries of printed spaces as public spaces.
Activated outside of this exhibition across many mediums and multiple platforms, each practitioner in their own vernacular attends to the situations and sensations of our environment as sites of embodiment and life. In approaches both humorous and hopeful, they move through cities, streets, meetings and parks, emerging in new constellations of practice.
—
Elle Loui August
1.Stefano Harney and Fred Moten, The Undercommons, Minor Compositions, 2013