Essay
All I Want is a Face Lift
The act of describing artist Virginia Leonard's ceramic sculptures is a scramble for adjectives. A word grab for soundbites that might go some of the distance to illustrate the sensation of the works' forms and surfaces. Words come quickly — visceral, precarious, bodily, blobbily — but none of them quite get the job done.
It's no criticism to say Leonard's work is full on. Full colour, full texture, full noise. To look at her abstracted hand-built sculptures, you have first to decide where you are going to begin looking. Vessel-ish in form, they have no natural end or beginning. We can register the form and structure of pottery — a pot, a vase, a plate — but we can't be sure there's a right or wrong way to the orientation in which we might see the works.
We can see every pinch and pull of clay, imagining the kind of intuitive, subconscious making required to build work like this, where seemingly nothing is hidden from our view. There is none of the illusory magic of clay that we are all quite used to, no seduction of the wheel thrown, no carving back of the coiled surface to reveal something new entirely. Leonard lets us see it all — the drips, the blobs, the nubs of clay formed between the forefinger and the thumb, and the speed with which the coloured resin travels down the surface of the form.
Originally trained as a painter, Leonard shifted her focus to clay in 2013. Her work in both painting and ceramics is informed by her experience of a serious motorcycle accident while living in London in 1986, resulting in a long hospitalisation and the enduring experience of living with chronic pain. Leonard's work charts her development of a material language to communicate the vocabulary of a hurt or healing body.1 She writes:
"My works are self-portraits that address my bodily scarring
and chronic pain. Chronic pain has no biological value … it lacks both language and voice. The language of my clay making is
my attempt to rid my body of trauma and reduce my level of chronic pain."2

Over the past five years Leonard has developed her autobiography into a working methodology. She builds work in a way that expresses an intuitive handling of clay, a bodily resonance that both aids and communicates the conditions of her own physicality. As a viewer looking at the work it is hard not to think about the process of its creation — we can see the gesture of the hand on the clay is quick, repetitive and forceful.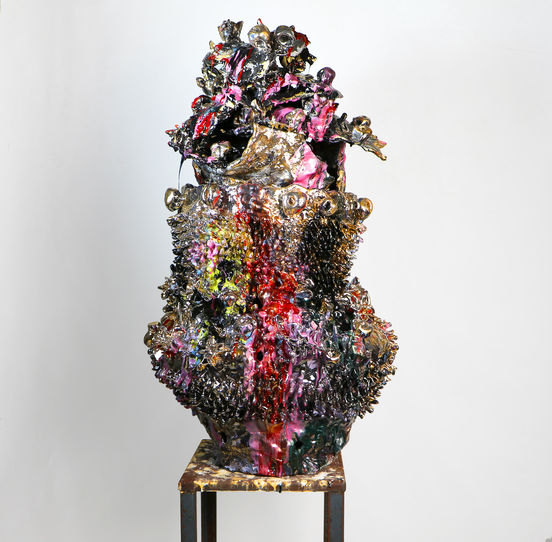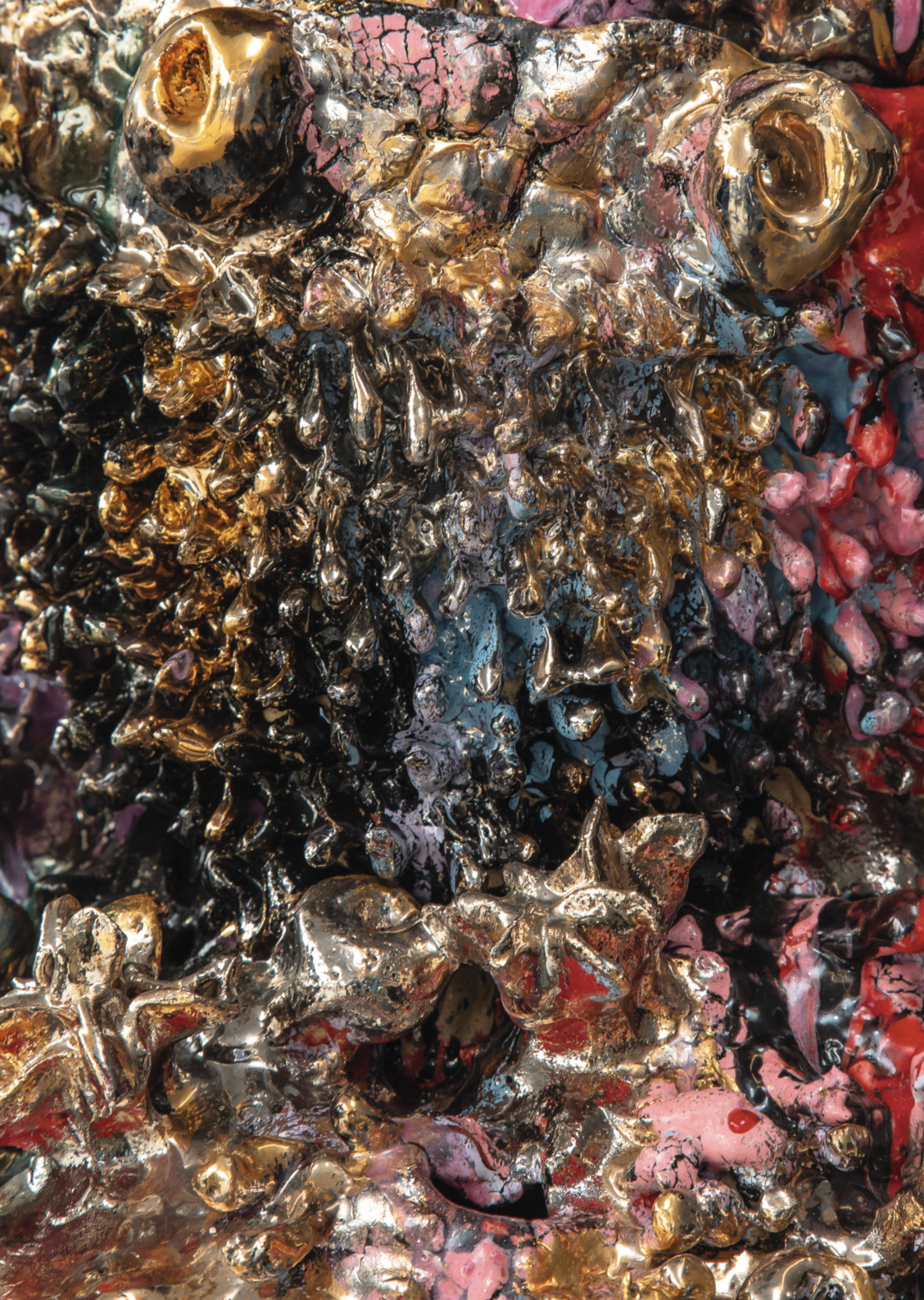 All I Want is a Face Lift stands over a metre tall, the largest single work made by Leonard. I first saw it completed and in the corner of her Matakana living room. Propped off-kilter but sustaining its own weight and volume, it is supported on a cantilevered stainless-steel plinth, the gleaming geometry of which evokes the sterile, hard-edged efficiency of an operating theatre. At first glance I was there with that list of adjectives growing longer, marvelling at the volume and texture. All the usual descriptive suspects were like pairs of opposites swinging the work from one extreme to the other — beauty to ugliness, violence to therapy, attraction to repulsion.
It is easy to get carried away with these oozing adjectives when unpacking the materiality of a practice like Leonard's, but in the process we risk a not insignificant diversion. So preoccupied we may be with pottery and arguments for or against craftsmanship, we may miss the brazen magic of the thing itself. American writer Garth Clark suggests the lack of analytical tools for understanding ceramics is a crucial problem, creating a discipline that is inarticulate and unprepared for establishing a position within a wider visual arts framework.
"It is clear that ceramics' long held anti-intellectualism and determined empiricism has exacted a heavy price and left us marginalized in a world of art that has become increasingly
about ideas, over skills and materials."3
Closer to home, artist Denis O'Connor (himself a clay frequenter) echoes Clark's view. Reflecting on the surging popularity of ceramics in the work of contemporary artists, O'Connor acknowledges that two distinct traditions are at play — art and craft — both informed by their own specific histories. On his admiration for Australian artist Glenn Barkley's polarising 'schematised vessels', O'Connor says:
"… [the] vessels have a physical, formal and conceptual presence that is about pottery, but without any utilitarian function. … It is clear Barkley admires the magnificent tradition of ceramics but he's no slave to it."4
Lines have traditionally been drawn with form and function (pottery/craft) on one side and a more highly valued commodity of conceptual freedom (art) on the other. But O'Connor and Clark point to a more useful conversation we could be having, about what can be learned, shared and made in the overlap between the two traditions, where artists defy easy categorisation.
A self-described outlier, Leonard is one of only a handful of artists in New Zealand working exclusively in clay who occupies this space. As with Barkley's, her vessels (and they are vessels) bear traces of lids, handles, footings and ornate decorative detailing that speak to pottery — reconfigured, however, in vivid sculptural forms. She abandons other references and modes (utility, technical perfectionism, domestic scale) that do not serve her purpose. The outcome is audacious and scintillating, with a sensory impact so materially expressive that it achieves an unlikely union, at once celebrating clay and drilling into its craft tradition, while remaining ambivalent to satisfying its usual requirements.
Transported a week later to Objectspace and installed on the gallery's large low outdoor plinth, All I Want is a Face Lift reminded me of my grandmother's glass epergne, a tall milky-green sculpture radiating strange floral off-shoots. It occupied a proud, not-for-touching living-room position in my grandparents' Ōamaru home. To an eight-year-old, or even a 28-year-old, its ornate stacked form with its vase-like flourishes suggested it was designed for use, but its unabashed glory was simply as sculpture. This is Leonard's territory. She takes what she needs from pottery, the aeons-old act of forming a vessel out of clay. She lets the ceramic do its job, joyously and raucously. And she plots a jagged line from there to contemporary painting, to the decorative arts, to monumental sculpture, and back again.
—
Kim Paton is the director of Objectspace in Auckland. She has curated and written extensively on craft and contemporary art, and is co-author of the book Contemporary Jewellery in Context, published by Arnoldsche Art Publishers and released in July 2017.