We are all consumers of type but often we are not conscious of the qualities of the type we are reading. We categorise type into two broad genres, serif and sans serif, with and without feet. All typefaces are imbued with layers of history, aesthetic associations and cultural signifiers built through use over time. Is there such a thing as a neutral type?
Kris Sowersby set himself the task to create two typefaces that were plain and unrecognisable but also useful. Taking inspiration from the philosophy of Jasper Morrison and Naoto Fukusawa's Super Normal project, over a 4 year period Sowersby drew letterforms from his memory without any direct historical reference and sought to remove any personality and trace of the typographer's hand.
Untitled Sans and Untitled Serif are the typographic equivalent of Muzak: you don't have to think about it too hard, it's not challenging, but enormously useful. Untitled Sans or Serif could happily work in a manager's spreadsheet, a laminated A4 shop hours sign or an identity for an obscure film festival.
The titling of the typefaces is a reference to them being unrecognisable—like a face without a name. It's a placeholder that refers to both itself and to the genre. An untitled serif typeface called Untitled Serif.
Referencing this tautology as an organising framework, Alt Group has created a series of untitled artworks that direct attention to the differences between the two typefaces and the qualities behind their creation–ubiquity, neutrality, and normality. A set of prints displaying the typefaces and their exact point sizes are scaled to the standard A series paper formats—A3, A2, A1, A0. Full stop sculptures are lifted from the page and made three dimensional as objects, taking our familiar relationship with type as image into the physical realm.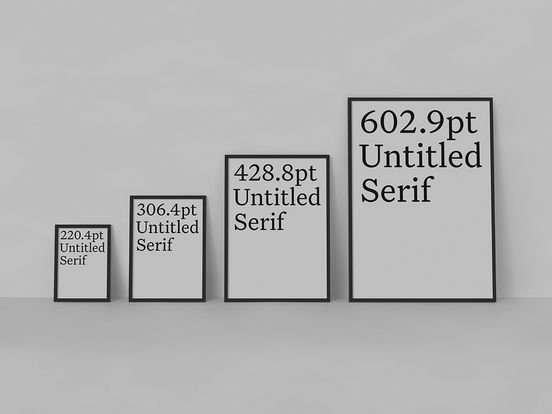 There are better ways to design than putting a lot of effort into making something look special. Special is generally less useful than normal, and less rewarding in the long term. Special things demand attention for the wrong reasons, interrupting potentially good atmosphere with their awkward presence.